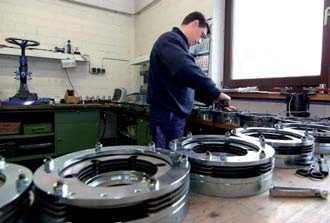 Working Principle
The PRECIMA spring-loaded fail-safe brakes are electromagnetically actuated single disk brakes with two friction surfaces.
The braking power is applied by means of pressure springs.
The braking torque is generated in the condition when there is no current supply.
Release of the brake is effected electromagnetically.
In the absence of current, the compression springs (5), present in the magnet body (1) pushes against the axially movable armature plate (2) which locks the brake rotor (3) against the motor housing surface (8). The brake torque is transferred to the shaft via the rotor and splined hub (4). By applying direct current voltage to the coil, a magnetic field is produced in the magnet body (1). This magnetic field attracts the armature plate (2) across air gap "a" and allows the rotor to rotate and neutralize the brake torque.
Assembly
The spring-loaded brake is supplied ready to be mounted.
The air gaps for FLC, FDW & FDX brakes are fixed without adjustment.
The air gaps of FDB, FDD & FDR brakes are preset before leaving our factory, they can be adjusted later without removing the brakes from the motors.
The range of PRECIMA spring-loaded brakes
FDB Series: classic solid fail-safe brakes in several variations for universal use
FLC Series: easy to assemble, low cost Holding Brake for applications with limited friction work
FDD Series: low noise double brakes for applications with high safety requirements
FDR Series: double friction rotor brake for high torque requirements on limited mounting space
FDW Series: IP66 encapsulated brake for outdoor applications or use in aggressive environment
FDX Series: IP67 encapsulated brake for use in very rough environments like offshore or sea climate
Accessories
For converting alternating current (AC), which periodically reverses direction, to direct current (DC), which flows in only one direction, half-wave and bridge brake rectifiers, fast acting rectifiers, and current detection relays are available.
Special solutions
In case of special mechanical and electrical requirements with respect to the spring-loaded brakes, please contact our Sales Department.
Product information
Standard voltages are: 24 VDC, 48 VDC, 103 VDC, 180 VDC and 205 VDC
Special voltages are available on request
Standard cable: size 05 and 06 – AWG 24; Size 08 to 30 – AWG 19
The air gap "a" is preset
The spring loaded brakes, type FLC/FDW/FDX has fixed air gap "a", which are given through the dimensions of the parts
Fixed bearing not required on the side of the brake
Asbestos-free friction linings: Due to the special processing of the friction surface, the rated braking torques are achieved after a short running-in process
Download Information:
PRECIMA Safety Brakes & Brake Rectifiers – General Information.pdf